Owners: Dan and Kelly
We have lived in Maui for many years and raised our wonderful daughter on this adventure-filled Island. We have owned and managed Private Luxury homes for decades. Our goal is to provide you an opportunity at a successful trip to Maui and give you the tools to enjoy your stay to the maximum.
Both of us have been in the Travel and Activities Industry for many years on this Island and know it well. We have had the pleasure of experiencing many Vacation by Owner homes and many of the Islands activities. These experiences have prepared our Vacation home for your best success to enjoy Maui.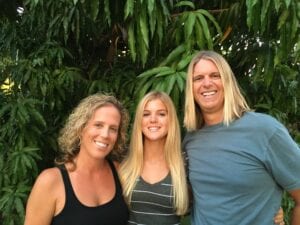 Maui Aloha Vacation Rental is not just another Vacation Rental Home by Owner. We take hands-on pride in keeping the home in top condition. The home is maintained inside and out to be clean and ready for you to enjoy. Along with all the normal comforts of home, we also found it important for you to have what it takes to enjoy a day at the beach. We provide Beach chairs and Beach Towels for your convenience and comfort!
Our Maui Vacation Rental by Owner is near our permanent residence here on Maui.  Being close by helps us maintain the home to its highest potential. We take pride in our Vacation Rental Home so you can relax and enjoy your trip to Maui. We hope to have the opportunity to greet or meet you during your stay. Thanks for choosing our home for your stay on Maui.